Nobel Peace Prize Laureate Tawakkol Karman
Tawakkol Karman is a human rights activist, journalist and politician. Known as the "mother of the revolution", "the iron woman" and "the lady of the Arab Spring," Karman played a key role in the 2011 pro-democracy youth uprising in Yemen. She was awarded the 2011 Nobel Peace Prize, along with Ellen John Sirleaf and Leymah Gbowee, in recognition of her leadership in non-violent struggle and her advocacy against authoritarianism, corruption, and oppression. Karman is the first Arab woman and the second Muslim woman to win the Nobel Peace Prize. and at the time was the youngest recipient at 32.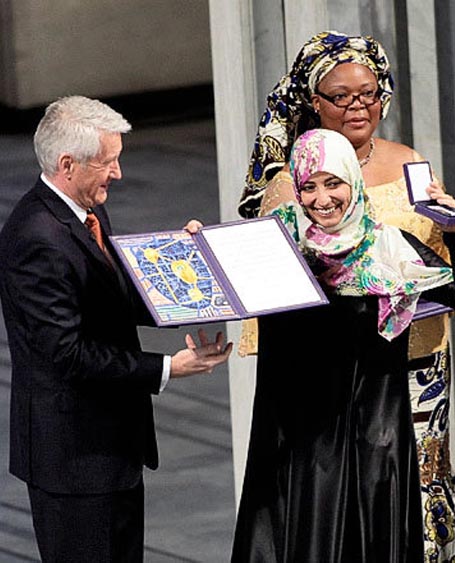 Following the footsteps of her inspirations, Martin Luther King and Mahatma Gandhi, Tawakkol has become one of the pioneer leaders in the Middle East to promote the culture of non-violence as a means to fight political oppression and bring institutional change.
In a male-dominated tribal country, Tawakkol caught the attention and admiration of the world and international media for her fearless leadership as a young woman mobilizing thousands of Yemenis in her call for the outset of late President Ali Abdullah Saleh.
Through her non-violent approach, Tawakkol was able to reverse the stereotypical image that portrayed her country Yemen as a source of terrorism and violence. Along with her revolutionary comrades, Tawakkol has proven to the world how peaceful and aspiring to peace the Yemeni people are.
Although Yemen is the the second most heavily-armed country in the world per capita after the U.S., with about 55 guns per 100 people, the protestors remained non-violent regardless of all the violence they were subjected to by the regime of late President Ali Abdullah Saleh.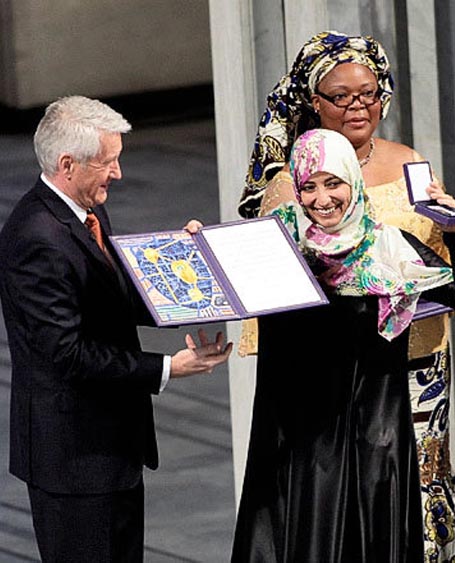 Tawakkol's fearless spirit and powerful activism put her in great danger. She has been socially defamed, threatened, and politically imprisoned. On January 22, 2010, she was kidnaped while driving with her husband by three plain-clothed men without police identification and was taken to prison. At that very moment, Tawakkol realized how her peaceful protests have scared the regime and how the regime's  aggression is driven by nothing but fear. Her arrest sparked nation-wide demonstrations and condemnations. Her arrest along with the social and political support she received increased her courage, defiance, and longing for a democratic and civil government. She left her prison more determent to continue protesting.
Fiercely committed to bringing political and social change, Tawakkol spent nine months in a tent in the Change Square in the Yemeni capital Sana'a.
Away from her three children and family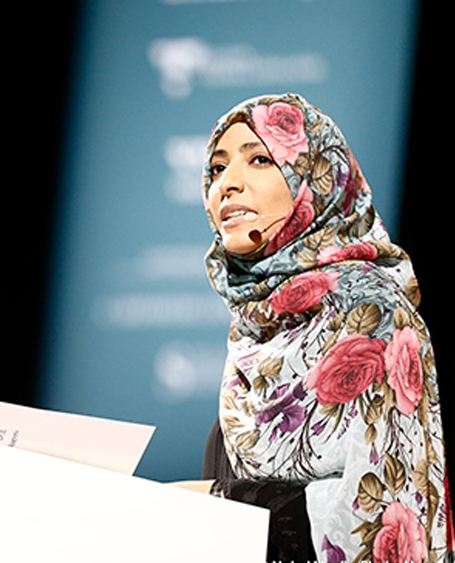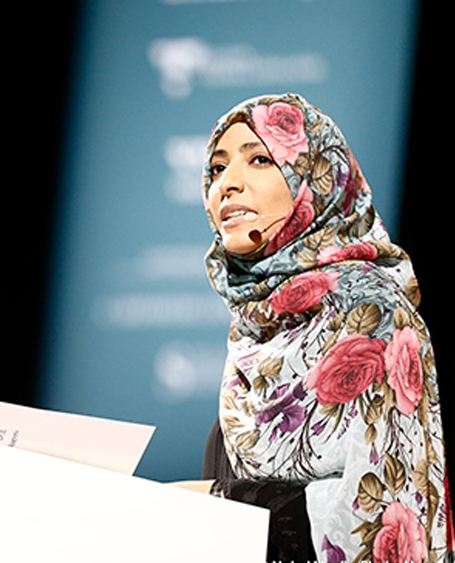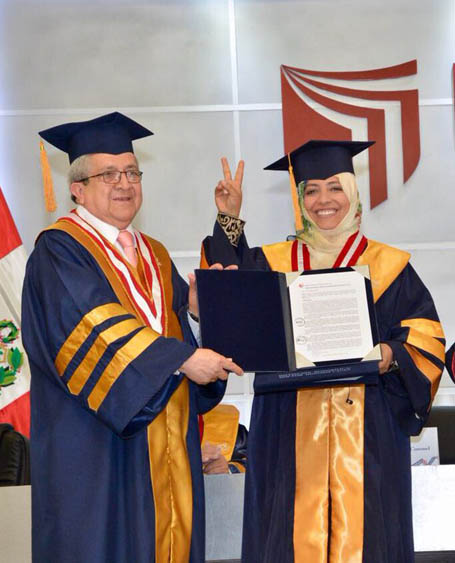 she kept leading the peaceful protests calling for justice and freedom. Tawakkol witnessed the killing of her revolutionary friends right in front of her eyes and right next to her by government forces and snipers. She was and is willing and ready to die for her cause. She always says "With non-violence the journey to freedom is less bloody and more guaranteed".
In early 2011, With the participation of many youth activists,Tawakkol co-founded the Council of the Peaceful Popular Youth Revolution. However, shortly after its establishment, to lead the marches and the revolution.
After her long persisting peaceful struggle, Tawakkol along with her revolutionary comraded, succeeded in ousting late president Ali Saleh after 32 years of authoritarian and corrupt ruling. Saleh was forced out to sign his resignation.
Tawakkol's strive for the non-violent resistance started since an early age. In her recounts of childhood, She have organized multiple protests in her school against unfair treatments of students. Karman has then grown up to be a well-versed journalist struggling for human rights and justice.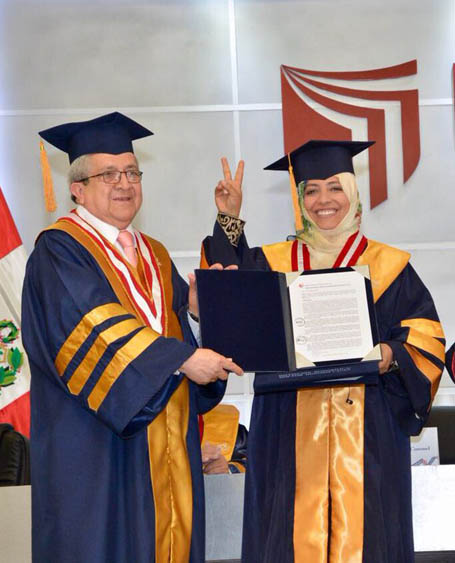 Her political activism started long before the Arab spring. She started calling for the outset of the regime of late President Ali Saleh in 2007 by publishing articles in Yemeni newspapers. She was firmly convinced that the regime was not going to bring any changes or reforms to the complex multiple challenges Yemen had been facing due to his way of governing: separatist movement in the South, six wars in the north, manipulation of political dialogue, deterioration of human rights and freedoms, augmentation of the state's grip, and deterioration of the economy.
As a journalist, she wrote extensively and bravely about injustices and civil rights violations, despite the country's severely restricted media environment. In 2005 she founded Women Journalists Without Chains to advocate for freedom of the press, and worked as a campaigning journalist, reporting on government injustice and human rights issues, including malnutrition and illiteracy among girls.
In 2005, Karman was one of eight female journalists who founded the human rights group Women Journalists Without Chains. The group promoted press freedom and mobile phone news services, which were tightly controlled.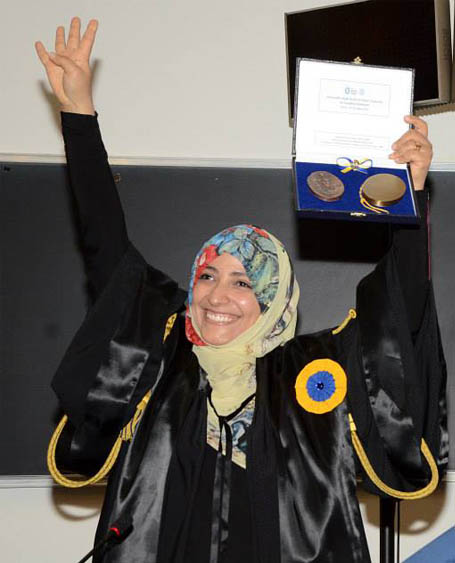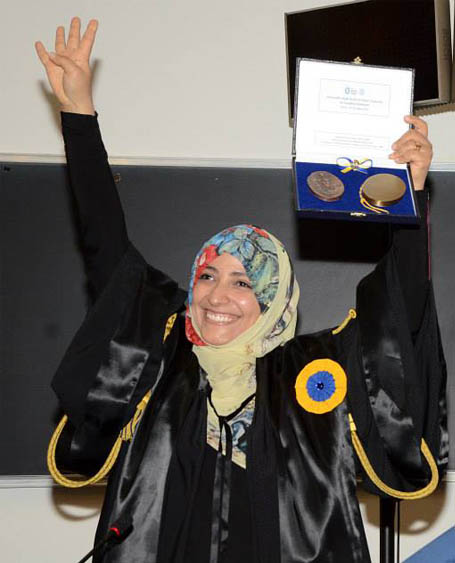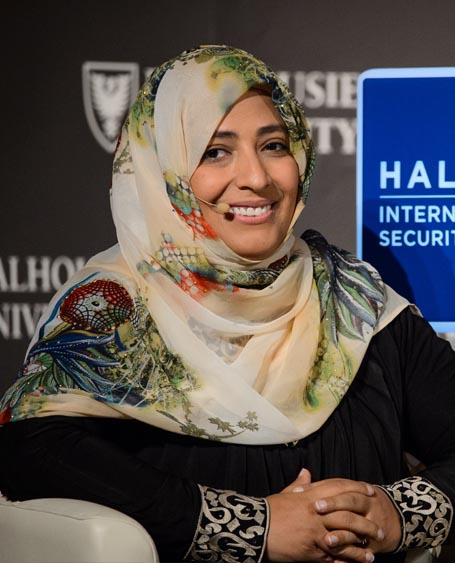 The government relented but denied their service, Bilakoyood, a licence. WJWC responded in 2007 by releasing a list of government abuses of press freedom. Karman led regular demonstrations against corruption and criticised the government for targeting journalists. Despite death threats, Tawakkol created a human rights weekly ritual wherein protesters would gather every week in front of the Yemeni Cabinet in Sana'a lobbying for press freedom. She called the Square aroung the Cabinet " Freedom Square". The Freedom Square became the main destination for all people to decry injustices. Since then, Tawakkol led more than 100 peaceful demonstrations, sit-ins, and solidarity events to protest judicial and governmental procedures against press freedom and journalists.
She along with her colleagues has been attacked by thugs in their weekly protests and faced frequent defamation campaigns led by the regime's media outlets.
Tawakkol has inspired women in Yemen by setting an example that women are capable of doing anything they set their minds to, including political reforms. She said, "Behind every great revolution, there are brave women".
Post removing Saleh from power, Tawakkol has been politically active during the transitional period.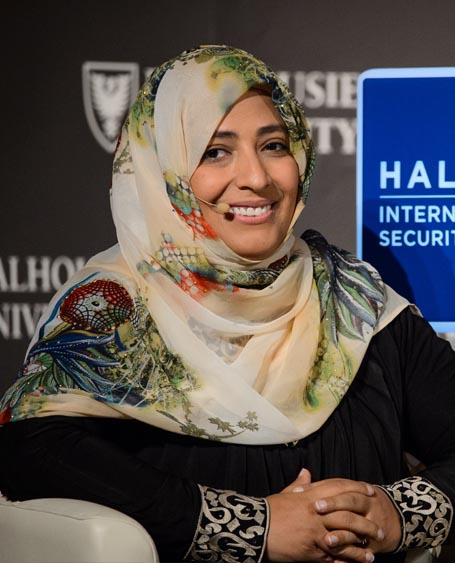 She has was member of the Preparatory Committee for National Dialogue Conference, and in the board of consensus committee of the national Dialogue . However, the political process collapsed after the Houthi militias, in alliance with the former regime, waged an armed coup and took over the capital Sana'a on September 21, 2014. Six months after the Houthi's coup, a coalition led by the of Saudi Arabia and the United Arab Emirates intervened militarily in Yemen leading the country to be the worst humanitarian crisis in the world.
Since then, Tawakkol has played an important and active role in standing against what both the Houthi coup and what she calls "the Saudi-UAE occupation" of Yemen. She adamantly calls for extensive political dialogue to restore the political process in Yemen.
With regard to her international cause, Tawakkol always defines herself as a universal citizen with the global message of equal citizenship and equal humanity. She always calls for co-existence between different cultures, religions, and politics. She holds a strong position against authoritarianism, dictatorship, and oppression. That is why she firmly supports the uprisings in the Arab Spring Countries.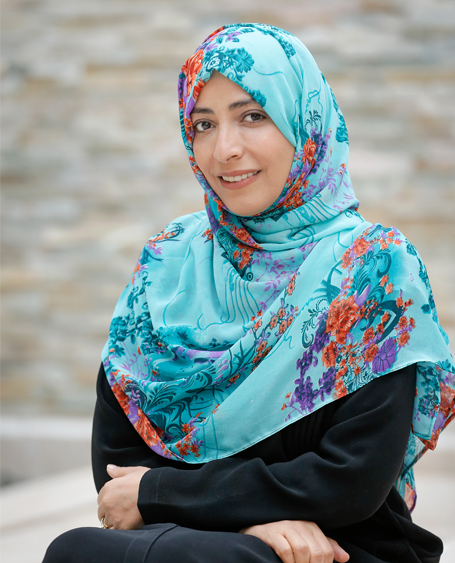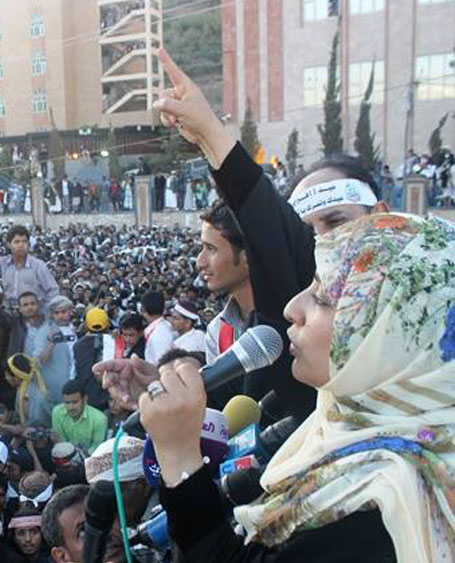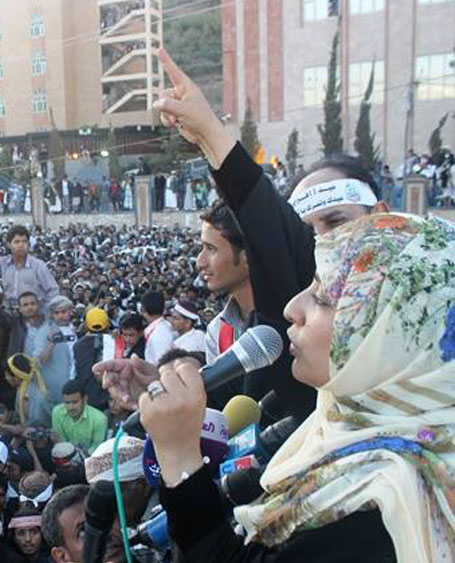 Tawakkol's courage and achievements have been recognized around the world, not only in the granting of the Nobel Peace Prize. She has received various awards and accolades which includes: one of TIME Magazine's Most Rebellious Woman in History on 2011; one of Foreign Policy Magazine's Top 100 Global Thinkers for three years; one of CNN's list of most powerful women in the Arab world, …. Tawakkol has also been selected for internationally powerful positions: member of the United Nations High-Level Panel of Eminent Persons on Post-2015 Development; member of Transparency International's Advisory Council and many international NGOs.
Tawakkol earned an undergraduate degree in administration from the Faculty of Commerce and Economics at the University of Science and Technology, Sana'a a graduate degree in education psychology from the University of Sana'a. She was granted many Honorary Doctorate from many universities in International Law, human rights, Journalism, and women's right.