Activities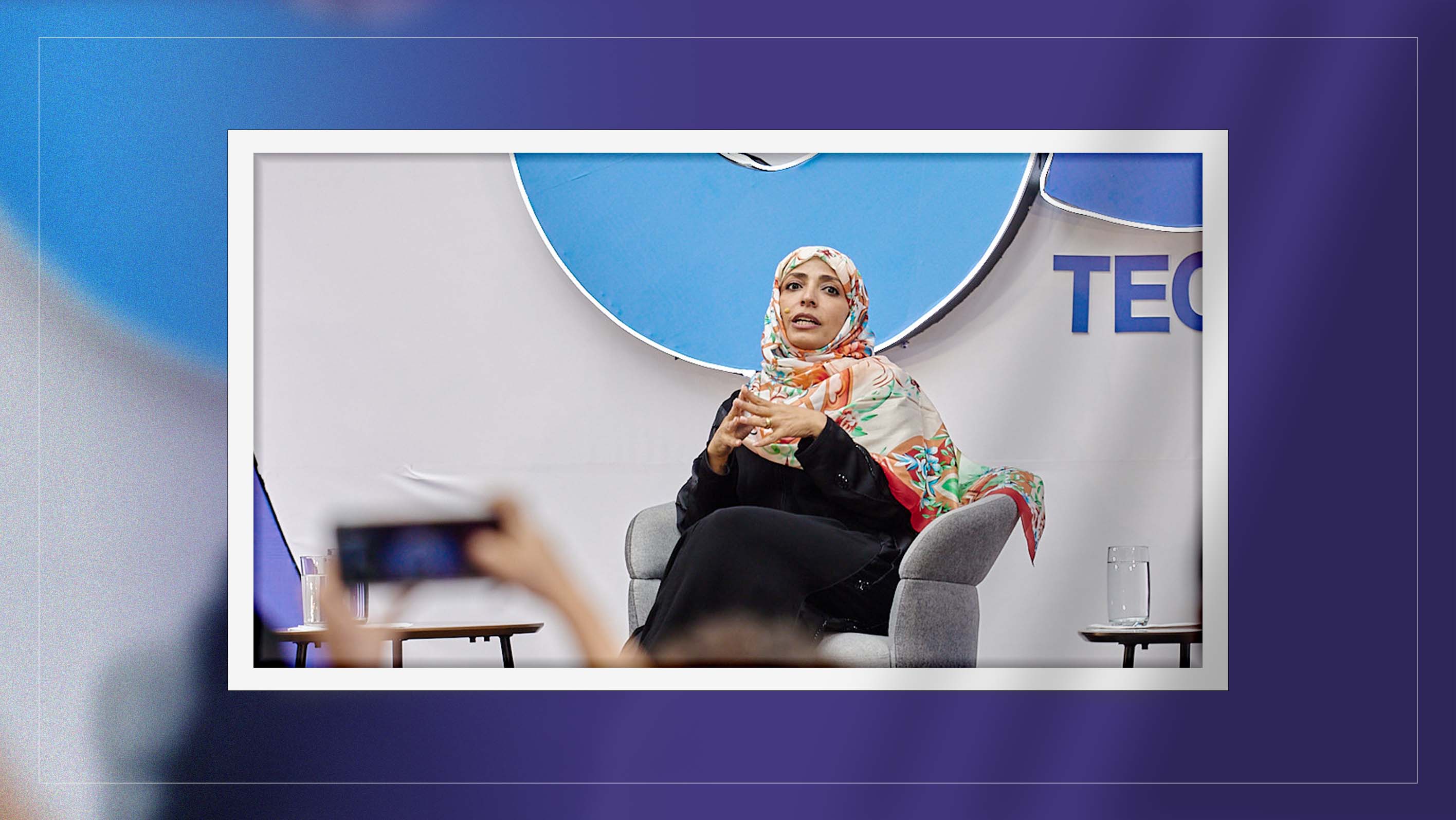 Tawakkol Karman calls for freedom, democracy, and global security at Tecnológico de Monterrey's 80th Anniversary Conference
Nobel Peace Prize laureate Tawakkol Karman delivered a speech on "Freedom, Democracy, and Global Security" at a conference organized by the Technological University of Monterrey in Mexico, commemorating its 80th anniversary. In her address, she emphasized the need for a collective global vision that restores the values of democracy and human rights.
Karman highlighted the importance of redefining individuals based on their shared human affiliation, rather than being defined by the power struggles orchestrated by major powers. She criticized the ambitions for control and the geopolitical interests that often drive these conflicts, arguing that they hinder progress and global security.
Furthermore, Karman denounced the influence of oppressive regimes with fascist tendencies, which impose their will and suppress the freedoms of their citizens. She stressed the need to break free from such oppressive systems and foster an environment that upholds freedom, democracy, and human rights.
Karman emphasized the global objective of upholding shared human values such as democracy, justice, human rights, and the rule of law, uniting people across races, religions, and nations.
She expressed the urgency to unite the forces of justice, democracy, and human rights in response to the current precarious global landscape, which poses risks and threatens the hard-fought progress of humanity.
As she continued, the gathering aimed to reaffirm commitment to freedom, democracy, and shared aspirations for a world characterized by justice, democracy, human rights, equality, peace, security, responsibility, and solidarity among all people.
A fundamental shift in perceiving and addressing threats against democracy, justice, human rights, freedom, peace, and global stability is crucial to successfully tackle emerging challenges. This transformative change will foster adaptability and resilience in the face of these obstacles, as emphasized by Karman.
Karman noted the inherent connection between dignity and freedom, highlighting that the Arab Spring has been recognized as the embodiment of the Revolutions of Dignity. According to her, individuals truly experience dignity when their rights are safeguarded by the power of the law as they live as citizens.
Karman reaffirmed steadfastness in upholding freedom, democracy, justice, equality, and the rule of law. She noted that it is those who sacrifice rights and freedoms in the name of war justifications within international conflicts who display true foolishness.
Karman drew attention to the evolving world and the looming crises arising from wars, geopolitical and economic conflicts. She emphasized the necessity of collective global efforts, fostering relationships among civil society, human rights organizations, humanitarian entities, and educational institutions. 
Furthermore, Karman underlined the vital role of values in consultations, advocating for their detailed consideration. She warned that the decline of solidarity, respect for human rights, and social responsibility weakens societies amidst worsening crises related to livelihoods, energy, and warfare, both locally and globally.
Here is the transcript of the speech:
Ladies and gentlemen, esteemed faculty members, and fellow students,
I am delighted to once again find myself in the charming city of Critaro. It has been merely a year since my last visit to this remarkable region. The warmth and kindness displayed by the people of this community, along with the vibrant spirit that characterizes your society, have left an indelible impression on me. I can't help but feel a strong sense of belonging, as if I am an integral part of this wonderful community.
I am also honored to take part in the celebration of the 80th anniversary of the University of Monterrey. This momentous occasion beckons us to reflect upon and pay homage to the incredible journey this esteemed academic institution has traversed. It serves as a poignant reminder of the eighty years of accomplishments and advancements that have contributed to shaping the illustrious legacy of this establishment. Big  congratulations to the University of Monterrey. on this remarkable milestone. 
And with tis achievement I want to say that the world eagerly anticipates your continued contributions, particularly in the realm of addressing the pressing challenges that confront humanity today. Our global landscape is rife with complex issues that necessitate our collective focus, collaboration, and groundbreaking ideas. These challenges are diverse, spanning from technological advancements and scientific breakthroughs to economic transformations, societal shifts, and environmental concerns at local and global levels.
In our interconnected world, the challenges faced by one nation ripple across more than it's borders. Geopolitical tensions, economic conflicts, environmental issues, and humanitarian crises are all interlinked. This requires us to come together as global citizens, and work together in favor of shared human values.
You the new generation , It is  importance to prepare your self for this freat duty , to surpass your predecessors, and don't expect the Solutions will only come from the current governments entrenched in obstacles, restrictions, and power struggles that hinder societal progress. NO, It will come from you, you should arm your selves with deeper understanding of the challenges that faces your countries and global future , and holds the mantle of innovating novel approaches for the advancement of your nation, society and world.
The matter of values deserves central consideration, receiving clarity and thorough attention. The erosion of values such as solidarity, respect for human rights, and societal responsibility could progressively unravel our communities within the context of escalating crises related to livelihood, energy, and warfare.
 Let us work to create a state that upholds the rule of law, safeguards the rights of its citizens, and ensures the welfare and development of its people.
In the face of a world characterized by war fervor, arms races, and ongoing crises, one might question whether our discussions of freedom, democracy, and justice are naive or futile. It is not foolish to discuss freedom, democracy, and justice in a world seemingly consumed by conflict – it is necessary, for these are the principles that can guide us towards a more stable and equitable future.
In our interconnected world, no nation is an island unto itself. The peace and security of one nation are intertwined with the peace and security of all others. Upholding the principles of freedom and democracy is not only a matter of internal governance; it is a contribution to the global effort to build a more peaceful and secure world.
I believe that Security and freedom are in great danger in today's world. And we have to defend both at the same time. One cannot cancel the other.  The Russian war and invasion of Ukraine, the escalating tensions between Russia and NATO, and the tensions between China and superpowers over territorial claims and human rights issues all of these issues have brought to the forefront the danger of the outbreak of a third world war and a global nuclear conflict. The return of authoritarian regimes in middle east, the rise of populism, waves of intolerance and hatred based on religion or ethnicity, and far-right terrorism have caused endangered and collapsed both security and freedom of many countries around the world including the democratic countries.
Democracy and freedom serve as the ultimate guarantee for global security and stability. When nations embrace democratic principles, they prioritize the welfare and rights of their citizens, leading to internal cohesion and a sense of national unity. This reduces the likelihood of internal conflicts and uprisings, which, in turn, fosters regional and global stability. Democracies also tend to be more open and transparent, which facilitates international cooperation and trust-building among nations. Additionally, democratic societies typically engage in peaceful dispute resolution and are less prone to aggressive behavior, decreasing the likelihood of armed conflicts between countries. Moreover, respect for individual freedoms and human rights creates a fertile ground for economic prosperity and development, which contributes to global stability by reducing poverty and inequality By upholding democratic values on a global scale, nations can work together more effectively to address common challenges, such as climate change, terrorism, and pandemics, enhancing global security and stability for the benefit of all.
It is unfortunate that democratic countries in today's world are allied with tyrants, especially in our Arab region, which has led to gross violations of human rights, the spread of coups, militias and terrorism, and the destabilization of local and global security and peace.
For us, dignity and freedom are inextricably linked. The Arab Spring is aptly described as the Revolutions of Dignity, capturing the essence of those movements. Dignity is experienced when individuals live as citizens with their rights safeguarded by the rule of law. It is nurtured by a state governed by justice, ensuring the enforcement of just laws and the protection of citizens. Such a state thwarts the misuse of public authority and rejects the exploitation of institutions for the gain of a select few, whether individuals, families, sects, or dynasties.
Our aim is for the state to serve as a tool for the people's development, welfare, and service, rather than a weapon wielded by a tyrannical and corrupt regime that seizes control, exploiting the potential of its people to their detriment. Our aspirations are not novel; rather, they align with values and accomplishments that other nations have achieved decades before us.
Turning our focus to the challenges facing Mexico today, it is evident that your nation, like many others, grapples with multifaceted issues that demand attention. These challenges range from economic and corruption to environmental degradation and organozed crime. You young people of Mexico have a crucial role to play in addressing these problems and steering the country toward a more prosperous and just future.
You possess a unique perspective, unburdened by the limitations of the past, and an unwavering commitment to positive change.
 Brimming with conflict and transformation, your generation has the power to reshape the narrative, to champion justice, and to uphold the values of freedom, dignity, and human rights.
Embrace this opportunity to actively engage in shaping your country's destiny. Collaborate across disciplines, share your ideas, and employ your skills to find innovative solutions to longstanding problems.
Educational institutions like the University of Monterrey provide the fertile ground for nurturing ideas, fostering debate, and incubating projects that can address these challenges head-on. Your generation can harness technology, innovation, and social entrepreneurship to drive progress in ways that were previously unimaginable.
By promoting transparency, accountability, and citizen participation, you can contribute to a stronger democracy and more effective governance. Your dedication to environmental sustainability can lead to cleaner cities, protected natural resources, and a healthier future for all.
As the future leaders, policymakers, entrepreneurs, and activists of Mexico, you have the potential to create a more equitable society where opportunities are accessible to all, regardless of their background. By championing education, advocating for marginalized communities, and working to eliminate corruption, you can pave the way for a brighter future.
In closing, Your dreams today will shape your future tomorrow. With your energy, passion, and dedication, you can be the driving force behind positive change.
Thank you once again for allowing me to address you, and may your journey be marked by purpose and the pursuit of a better world.
To watch full speech click here