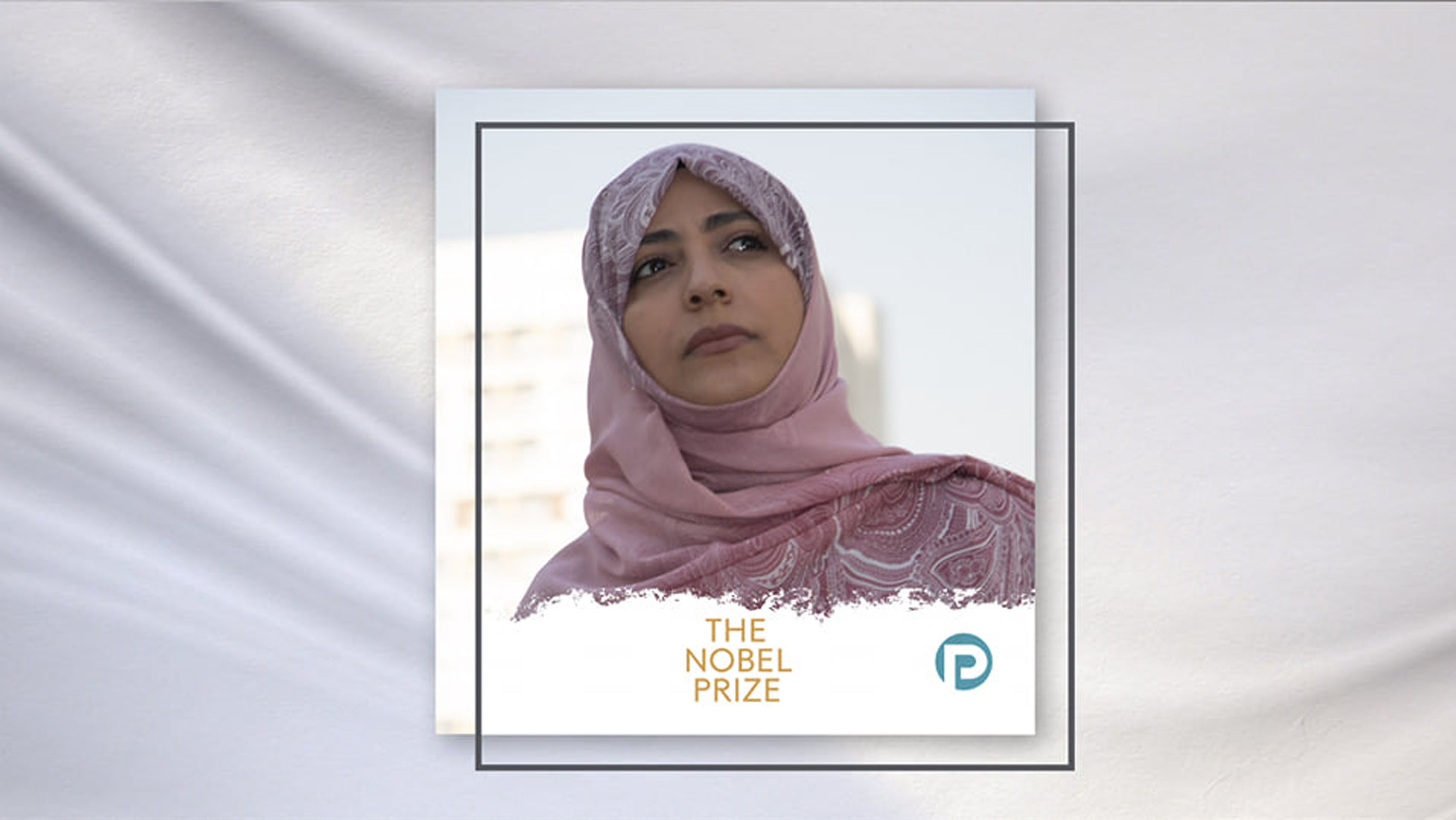 Mrs. Karman's Speech at Nobel Prize Summit
Hello all..I am so happy to participate in this important discussion on what disinformation and misinformation can do in our lives. At the request of this event's organizers,
I will focus on how the disinformation policy adopted by some countries has contributed to the spread of the Covid 19 epidemic, which has led to the death and injury of millions of people. I will also talk about some issues related to the policy of lying by some governments to consolidate their powers and distort and demonize their political opponents.
 Bismarck is credited with saying that lying usually abounds before elections, during war and after hunting. Unfortunately, events subsequently proved that falsehood and political misinformation in particular are much wider. Most governments have turned into factories that produce lies and mislead their citizens. I do not want to go further on this point, but in short, some democratic governments consider misinformation as something justified to pass their policy and reduce the level of rejection among citizens. As for authoritarian governments, they see in political and media misinformation a sacred patriotic duty to allegedly prevent their citizens from bad ideas that are, in fact, freedom, democracy, justice, and fair elections.
Dear friends, 
The world remembers how US Secretary of State Colin Powell defended the idea of Saddam Hussein's regime possessing nuclear weapons, and that this was a sufficient reason to start a major military operation against Iraq. This incident is one flagrant example of how far misinformation could be dangerous and which enormous price we should pay as a result of policy of lying and contempt for the truth. This war has resulted in hundreds of thousands of deaths and injuries, contributed to much further suffering of Iraqis, paved the way for terrorist organizations to spread and led to huge human cost. 
Patterns of political and media misinformation are, of course, many and varied, and I am not here to narrate them, but just wanted to refer to well-known one as an example. Perhaps it would be a good idea to invite you to place the Yemeni cause among the models of disinformation policies that led to the world's largest humanitarian crisis, as described by the United Nations. The Saudi-led Arab coalition launched a large-scale war on Yemen under the slogan of supporting the legitimacy of President Abd Rabbo Mansour Hadi in the face of the Iranian-backed Houthi coup. Nevertheless, what happened later was that Saudi Arabia and the UAE have seized Yemen's ports and islands, weakening President Hadi's power through the establishment and formation of armed militias, and resorted to torturing human rights activists and opponents of their presence. All this has occurred under the pretext of fighting terrorism and al-Qaeda. 
I remember our early days of taking to streets and squares of the popular revolution in Yemen before ten years as our first confrontation with a new kind of war accompanied by misinformation, spreading rumors and fabricated events and facts. Demonization was one aspect of an all-out war declared by the tyrannical regime against the popular revolution. When we were carrying the bodies of our martyrs to the cemeteries, the regimes' spokesman stated to the various media outlets that these bodies belonged not to peaceful protesters but to people who were killed in armed confrontations with the army forces.
This was the precursor of a full-scale disinformation war adopted by the regimes across the Arab Spring capitals, participated by militias, namely the Houthi militias, that supported the Yemeni regime in its counter-revolution against our popular uprising. These terrorist Houthi group served as a close ally of ousted Saleh's regime in the coup, in which militias were used to take over the capital Sanaa and other Yemeni cities on September 21, 2014.
By giving these examples, I wanted to point out how political and media misinformation creates humanitarian disasters and leads to the collapse countries and societies. As far as the Internet-based new media have removed the barrier to the participation of broad sectors looking for change and access to public opinion, they have at the same time been employed by electronic militias loyal to fascist and tyrannical regimes and to sectarian states that are hostile to freedoms, human rights, change and popular revolutions. 
Time does not allow to shed light on all facets of all-out war we as peaceful protesters in Yemen and the Arab Spring countries have faced, a thing which still continues to exist. Misinformation, rumors and smear campaigns were all attempts to obscure the facts and cover up the war crimes against humanity in Yemen, Syria and the Arab Spring countries.
What Iran, Saudi Arabia, Russia and the UAE have in common is that they all are hostile to change, popular revolutions, and the values of democracy, justice and human rights. These regimes have participated in the counter-revolution against the Arab Spring, pumping mountains of misinformation, false rumors and fabrications with the aim of misleading the public opinion. Through their 24-hour electronic militias, they have spared no effort to distort the facts and make it impossible for the public opinion to distinguish between facts and lies.
But the question is, would such huge disinformation machine of the Syrian regime and its allies in Iran and Russia be able cover up the truth about their massacres against the Syrian population, nearly 700,000 of which have been killed by demolishing their cities above them and dropping barrel bombs on their residential neighborhoods? Will we allow misinformation to prevent us from realizing the fact that millions of Syrians have fled to escape the regime's brutal death machine, a machine that is also used by the Iranian and Russian invaders?
In Yemen, we have faced a coup by the regime of ousted Saleh and the Iranian-backed Houthi militias, as well as a counter-revolution led by Saudi Arabia and the UAE. War was declared on our people and our peaceful revolution. We have faced Shiite militias backed by Iran. We have faced Saudi-Emirati plots and the axis of the counter-revolution with its military machine, lies, fabrications and rumors.
In parallel with massacres and slaughter, demolition of homes, arrests of thousands and violations against civilians, the Houthi militia has used misinformation and spread rumors and lies in an attempt to present itself as a victim, benefiting greatly from the crimes of Saudi Arabia and the UAE, which both have its own war against our Yemeni people, one of them waged from inside and the other from ooutsid
Dear friends, 
Today, I think everyone has realized the enormity of misinformation, lying and spreading false information. The irresponsible response to the (Covid 19) epidemic has caused hundreds of thousands of victims, inflicted great economic losses, and disrupted normal life. (Covid 19) has almost changed the face of the world, and I do not know whether such shift will be forever or just for several years. What I know well is that its consequences are enormous, and that these consequences could have been minimized had it not been for misinformation and the transmission of wrong information about its nature and adequate ways to combat and deal with it.
Away from accusing the Chinese regime of non-transparency and deliberately engaging in widespread disinformation regarding Covid 19, which has led to the spread of this frightening epidemic, it will be necessary for the Beijing government to be more transparent and share factual information it has concerning the epidemic. In recent months, it has become clear that everyone is at risk and that no one is immune to the effects of this deadly epidemic.
The policy of disinformation and false news on (Covid 19) is widespread mostly, which can be seen in the deliberate failure of many countries to reveal the true number of those infected with the virus, believing that doing so will damage their reputation or it makes it obligated to take beyond-capacity policies and economic measures. Whatever the reason, such policy has led to highly increasing the number of deaths. It can also be seen from some governments' claims to provide relevant aid to countries in need. Some governments have decided to take advantage of the Corona pandemic to appear as a cooperating one. But on the ground, it has proved that such claims were only a propaganda trap. Hence, it may be necessary to expose and hold accountable those governments that have manipulated both facts and feelings.
 Dear friends,
The plight of (Covid 19) has revealed that misinformation and false information is not only an act practiced by some angry or ignorant ones, but also by some governments and politicians, which calls on us all to strictly confront misleaders. Here, I call on international institutions to raise their voice in this regard. I also call for the need of the United Nations and its various institutions to hold accountable every government responsible for spreading false news or misinformation in relation to Corona or anything else related to human safety of humans or the environment on this planet. As we know, the amount of false and misleading information regarding the environment and climate is huge.
We need to have a strong and clear voice against misinformation. The world will not be safe as long as some deliberately share incorrect and misleading information. Personally, I have been subject to misleading false rumors and news and fabrications since my first demonstration for freedom and change on February 11, 2011. I have met with all forms of misinformation and smear campaigns by electronic flies. I faced live bullets as I faced disinformation and lies.
I am still subject to smear campaigns and false rumors, financed and supported by some of the region's despotic governments that believe that their false and fabricated rumors and accusations will make me stop criticizing their anti-human rights policy. They have fabricated various accusations against me, ranging from a provider support for terrorism and extremism and an advocate for moral degeneration to a supporter of America and heresy, a thing that is ridiculous. Unfortunately, disinformation campaign still works. 
From my experience, I can tell you that freedom provided by cyberspace in its various forms has been subjected to systematic violations by countries and regional axes that see in change and freedom a danger that should be contained by spreading misinformation and pumping lies and false news through the electronic space so that it becomes difficult to distinguish between facts and lies. Our belief in the values of freedom, justice, democracy and human rights makes it imperative for us to update our tools, methods and strategies to confront misinformation and false news and reduce the circles of their influence as narrowly as possible. The world has experienced how misinformation has been used to affect our confrontation with the Covid 19 pandemic and to affect electoral campaigns, and how has been employed in the counter-revolutionary wars on the Arab Spring revolutions. Misinformation can be seen everywhere around us, ranging from the political, economic and health spheres to all aspects of our modern life.
What I would like to say is that the policy of disinformation pursued by some governments is not limited to certain issue or parties. Indeed, it is a destructive policy that targets everyone. So, it would be wise to stop this, or at least find teamwork that exposes those claims, allegations, and lies. Misinformation should not be tolerated under no circumstances. In front of this, we need to organize our efforts and develop our means to limit lies and their pumps, defuse misinformation effect and reveal its sources and parties.
Our task today is to promote the positive side of modern and open publishing internet media and reduce the negative side exploited by some in an attempt to make them platforms for lies, misinformation and fake information. Organizing and developing our efforts in this direction via all possible means will make us be able to prevent our world from becoming a fertile ground for lies. Let's be one hand and work together for a world that rejects misinformation and ensures freedom to circulate information, disseminate facts and promote an environment conducive to freedoms and human rights.