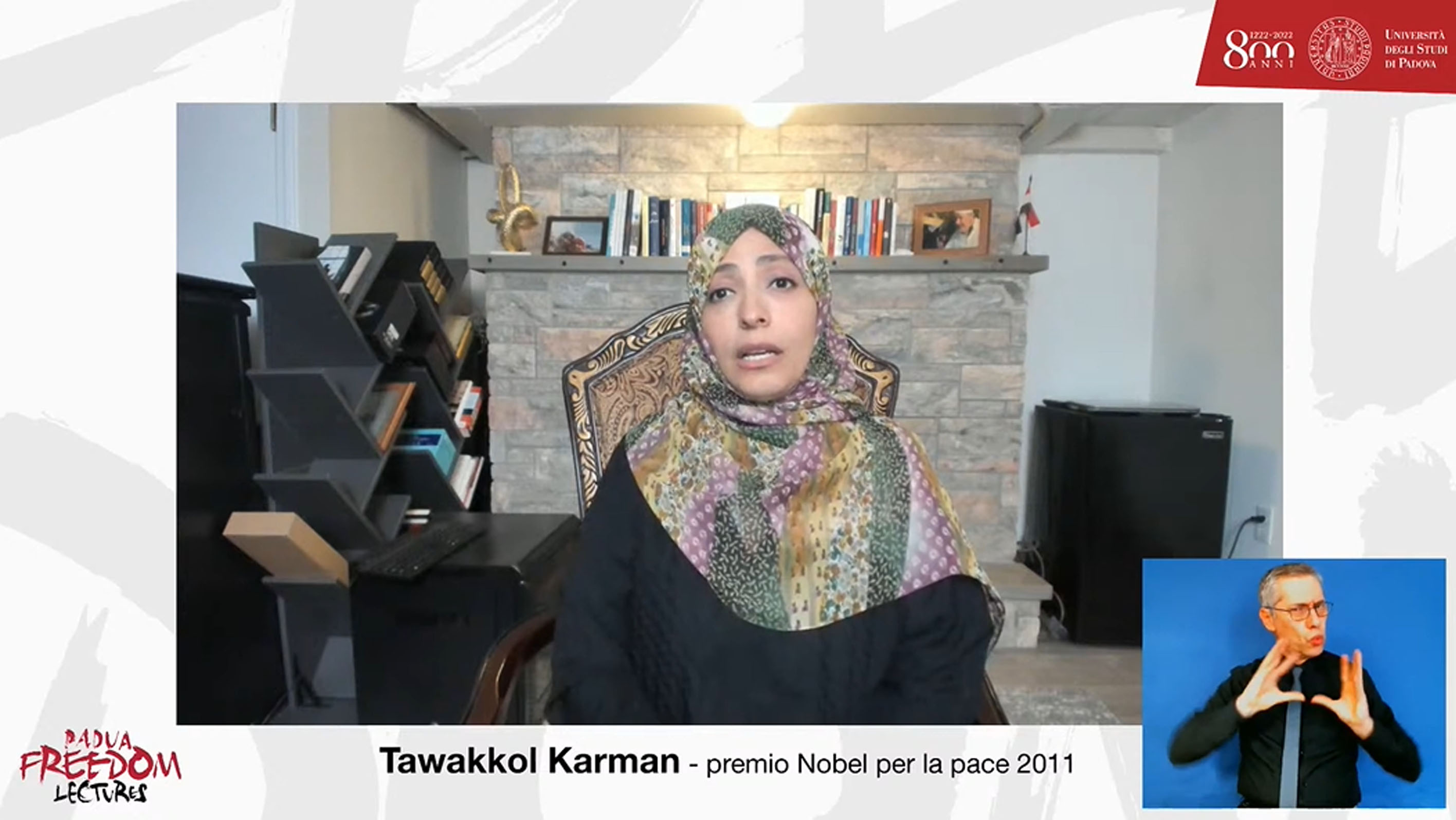 Mrs. Karman's Speech at University of Padua
First of all, I would like to thank the University of Padua for inviting me to talk about a value that I see as fundamental and central to our lives and struggles, which is freedom. For me, it is the value we all have to have, defend with all strength and never compromise on, because losing it means losing humanity and becoming like a machine without will.
Freedom has been and remains controversial, as there are those who see it as a prerequisite for a decent life in which people and societies can live without derogating from their rights or dignity. To some others, freedom is not more important than security that remains the very basic need and aim of man. 
In the Arab region, the Arab Spring revolutions in 2011 were a good example of such controversy and conflict, where regimes used a lot of money and resorted to repressive policies and suspicious alliances, under the pretext that change demands would lead to chaos. Chaos has indeed been, but as a result of counter-revolutions led by dictatorial governments driven by fears that the Middle East would become free and democratic.
The Arab Spring youth were met with a fierce anti-freedom war, where unfortunately Western governments chose to side with dictatorships at the expense of humanitarian principles in favor of their economic privileges and interests.
For me, the Arab Spring could be the revolution of freedom at the beginning of the twenty-first century. We have called for freedom and liberation from oppressive and tyrannical regimes that do not hesitate to commit genocide against their societies in order to continue in power. In this context, Syria is a typical example of a people subjected to the highest level of genocide in the world today, carried out by the Assad regime and its allies Iran and Russia.
Dear friends, 
As a Nobel Peace Prize laureate, I would like to briefly draw attention to the relationship between freedom and peace, as it is an essential thing often ignored.
There are two points of view: one up to victims and those resisting oppression and injustice, and the other up to oppressors and tyrannical regimes. Freedom fighters see in freedom a condition for peace, stability, development and prosperity of life, while tyrants see it as a threat to their existence.
To freedom fighters, peace means stability based on justice, equality, citizenship, the rule of law and freedom, while in the eyes of tyrants is subordination of society to their tyranny and its complete acceptance of their oppression as an inescapable destiny.  
Peace arising from the submission of the oppressed to their oppressors is not peace, but rather a nonstop raging war in which humanity is crushed and the oppressed every day, every hour and every second find themselves breathing air polluted by slavery and submission to brute force.
For us as fighters and advocates for freedom, dignity and the right of everyone to a decent life, peace is that empowering individuals to enjoy their rights and freedoms and ensuring their dignity through a State that serves as protector and not a threat to them. 
In a world, where inequality, injustice and oppression flourish constantly, freedom and peace become dreamlike words, thus resulting in more and more people being pushed into a very low degree of destitution and a life lacking in minimum dignified living standards.
Our dreams of a world with freedom, peace, justice and equality are challenged by local and global regimes that act out of their own self-interests and tirelessly work to ensure the continuity of oppression, injustice, inequality and indifference to injustice, oppression, hunger and lack of very basic necessities of life among a growing number of peoples. 
Dear friends,
The rise of racism in the West, which culminated with Trumpism and and the world breathed a sigh of relief after its downfall, shocked people everywhere.
The enactment of discriminatory laws against Muslim citizens in a country like Denmark today paints a gloomy picture of potential threats to the values of equality and democracy across the West. We are not trying to give the West lessons in democracy, citizenship and equality, but we are judging its governments by the system of values to which they claim to belong.
Silence in response to violations and to the Arab Spring revolutions being crushed by the region's criminal regimes and to their genocide would not ensure the security of America and European countries, nor would keep them safe from implications resulting from the absence of respect for human rights and the right of peoples to struggle for freedom, justice and equality, and to a peaceful transfer of power. 
How should the West be considered democratic and an oasis of freedom while it sees in the peaceful Arab Spring revolutions demanding freedom, justice, the rule of law, democracy and human rights as a threat to its interests?
It is puzzling, perhaps even shocking, that some raise their eyebrows at Trumpism, while at the same time feel nothing towards genocidal massacres in Yemen, Libya and Syria, which occurred in retaliation for political change demands and peaceful uprisings!
Our defenseless peoples have been subject to a relentless war by powers that, to their own purpose, have used overthrown regimes, terrorism and regional axes greedy for sharing our countries and wealth. There is nothing left of the international community but envoys who fill vacant posts with routine tasks and do little to prevent crimes against humanity or to stop wars of genocide.
Militias and rogue regional states move away from human values, waging their wars without any fears or limitations, in full view of the international community. The trade-off should be between a just global order and an unjust one. It is absurd, and not counted as a change, to replace an unjust global trend full of chauvinism and racism with a similar one.
I hear about calls and trends to isolate Western countries from what is happening in the third world. Let me tell you in clear terms that a such step is not an appropriate solution to guarantee security and stability of your countries and keep them safe from the effects resulting from state collapses, increasing massacre, the spread of terrorism and sectarian militias, and incursion of religious states like Iran and Saudi Arabia into their geopolitical environment.
The solution does not lie in xenophobia nor in anti-immigration discourse because immigrants are not the problem. The problem lies in the fact that the international community has remained silent towards retaliatory counter-revolutionary wars that have turned the Arab Spring countries into a hell, killed hundreds of thousands and forced millions to flee after their homelands collapsed to find themselves without shelters in the open across state borders, in a savage world that does not recognize their humanity nor consider them human beings.
Dear friends, 
The situation of freedoms today is extremely worrying even in regions typically seen as democratically well-established like the United States and Europe. Therefore, there must be considerable and responsible efforts involving governments, democratic parliaments, human rights organizations, and the most prominent activists known for their orientations in support of freedoms, to reduce the escalation of repressive policies in the world. Contrary to allegations by authoritarian governments that it is a sign of chaos and havoc, freedom is essential to contribute to stability and security.
I, and perhaps you as well, cannot imagine our world be dominated by oppression and tyranny, so it is necessary to develop a supportive stance for freedom and for those who want to express themselves and their ideas and beliefs.
Dear friends,
I know that freedom and its limits are debatable, and discussions in this regard will not stop even in the future in my view. In principle, laws exist to regulate cases like this, but their final purpose should be freedom itself, not imposing restrictions and measures.
To clarify, the philosophy of laws in countries Belgium, the Netherlands or Canada seeks to guarantee freedoms, bearing in mind that these freedoms do not harm others. But in many other countries classified as developing or dictatorial, the philosophy of laws mainly tends to impose restrictions on freedoms. 
Technological development, revolution in communications and the emergence of social media have led to more freedoms. But in turn, these developments have led to certain countries adopting a set of laws that seek to pose restrictions on freedoms of the new space, including penalties targeting those who press the likes on Facebook and Twitter.
No one can deny that the abuse of freedom exists, but does the solution lie in restriction of freedom? I don't think so. There should be clear standards to explain how to stop the abuse of freedom and social media. In my opinion, the case of preventing President Trump from tweeting on Twitter and Facebook's actions against him makes us think in a more serious way. Was it necessary or not to act so? Was it morally justifiable? And how to distinguish the enemies of freedom?
Free societies can conduct a discussion on these topics, and reach agreements that guarantee more freedom and a fair amount of responsibility. But societies under dictatorial regimes cannot advance even one step in this direction, so sharing an opinion or a post on Facebook about the anti-corruption may be considered a crime and incitement to hatred, while incitements to killing political opponents or targeting a part of society may be seen as self-defense and necessities of national security.
Best friends,
You know that the fields of freedom are many and varied, and I think that it is necessary to guarantee freedom of expression, freedom of belief, freedom of movement, freedom of scientific research and freedom of political action in particular, as this will serve as a basis for bringing about tangible and real change to the lives of many societies and individuals.
We must think of freedom responsibly, to protect it from being violated, but away from any guardianship. If there is something to be said at the end of my speech, it is that freedom is so precious that it is worth the sacrifices, whatever they may be. But this does not mean that freedom has become an idolatry. On the contrary, we must be frank in distinguishing real and unreal freedom, but such distinction should be as a result of revisions by democratic individuals and institutions, not dictatorial ones.
In this context, I would like to say that freedom will remain stronger than its enemies, as it has the power to overcome all obstacles and challenges.
Dear friends,
Our Yemeni people have faced an all-out war of revenge for six years. A fierce war of a new pattern that undermines the foundations of life of the entire population. The state collapsed after the fascist Houthi militia invaded the capital and cities. Salaries have been unpaid, the health and service system collapsed, and international aid under control of militias. Saudi Arabia and the UAE have destroyed our cities and infrastructure, established other militias loyal to them in the city of Aden and some other cities and prevented the legitimate government from operating from within the country. The UAE has seized control over the ports and oil-gas facilities, in addition to occupying the islands of Socotra and Mayun.
We call upon the world to stop this brutal war against our Yemeni people. We call on the world to support our people to restore their state and complete the transition in accordance with the three references represented by the UNSC resolutions, the agreement on the transfer of power and the national dialogue outcomes. 
We call on the democratic world to stop support for Saudi Arabia and the UAE implicated in war crimes against humanity in Yemen, as well as to stop arms sales to these two monarchies. 
We call on the international community to support us to bring war criminals to justice, to try those involved in war crimes in Yemen before international courts, and to compel Iran to stop its support for the Houthi militias. We call on the world to impose restrictions on warlords and militia leaders instead of dealing with them as political parties.
We call on the world to respect the right of our people to life and put an end to a fascist war co-waged by Iran, Saudi Arabia, the UAE and their affiliated militias. 
In the end, the path to freedom is arduous, so does the one to peace. Nevertheless, we must believe in ourselves and in our ability to be better off.
Thank you very much, and through you, I should also thank all the strugglers for freedom and peace, for a better world where the values of justice, equality, freedom, democracy and human rights prevail.