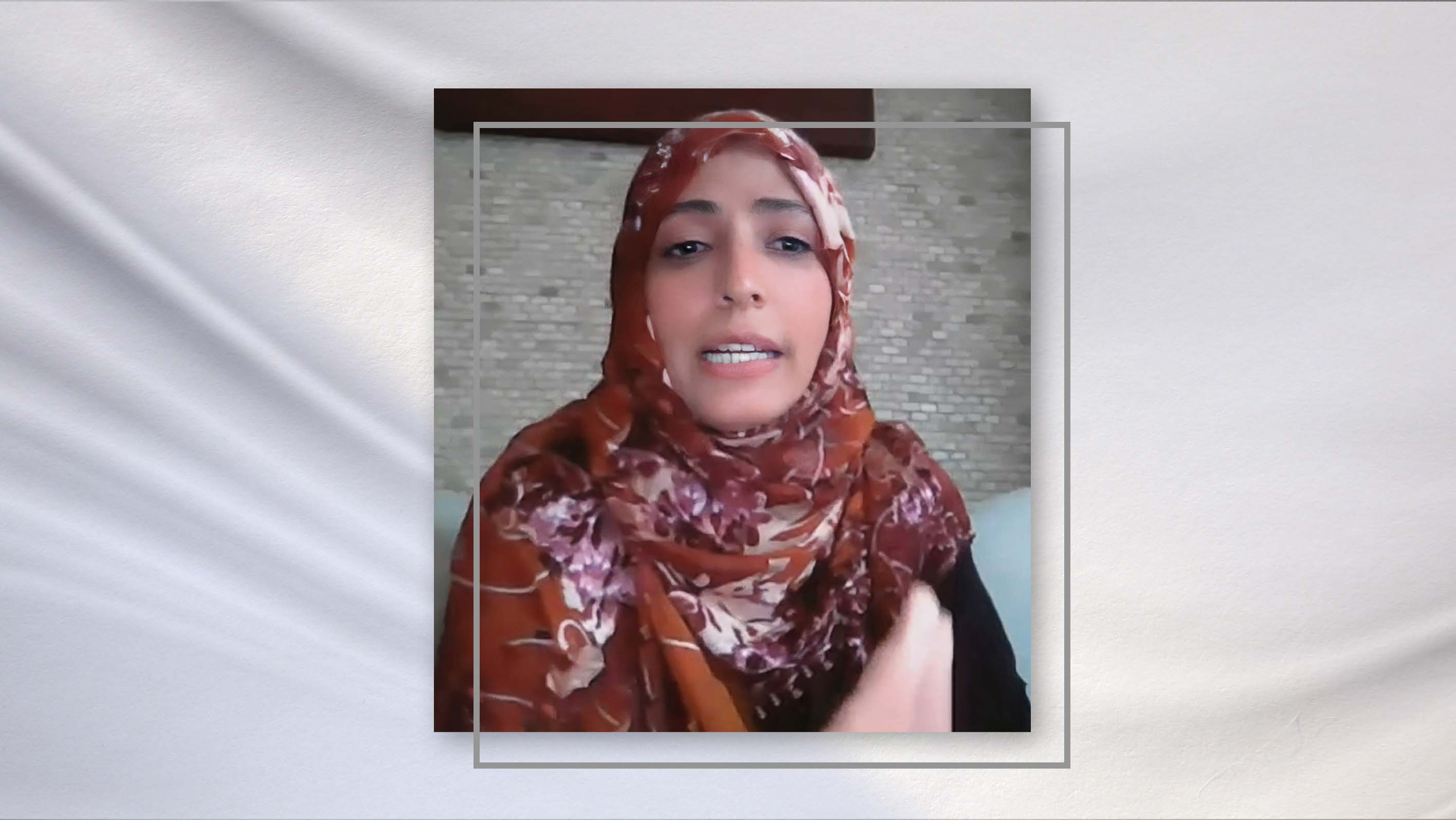 Mrs. Karman's Speech on Occasion of Fifth Batch of Leaders for Future Program
Hello everyone, 
I am so pleased to be attending this meeting thanks to the technology that has helped bring distances closer. 
I am glad to be with you. I am very keen on having this program and attending this inauguration ceremony of the fifth batch of "Leaders for the Future program" that includes learning English and receiving courses on democracy, human rights, peace-building and the necessary skills to enter the job market.
Today we are meeting with the best of the best after 3000 applicants have been chosen out of 21 thousand having the aspirations for a brighter future. May Allah help us someday to accommodate everyone in this program or the like.
I am very optimistic about 2023, a year, in which we at the Tawakkol Karman Foundation have launched many activities. Till today, January 28, we have achieved three activities considered to be among the most important ones, and hope for the next ones to be even extensive and better.
We inaugurated this year with the Washington Conference entitled "Towards Sustainable Peace and Democracy in Yemen. It was a very successful conference ending with crucial recommendations that we are now doing our best to fulfill. 
Just yesterday, we put the finishing touches to Assalam (peace) School in Taiz. It is a large project added to our most key education-related achievements across most of Yemen.
Today we are inaugurating the fifth batch of Leaders for Future Program that I am truly confident will help these young men and women be change makers and future leaders. 
400 applicants are present in the hall now, in addition to 1,600 online ones from various countries, including especially the Arab countries. What caught my eye while going through the list of online applicants is one nicknamed the little princess. I expect her to appear in her real name in next days as a leader for the future and be truly effective under her true name and identity.
My dear male and female students, 
As you know, the Tawakkol Karman Foundation seeks, through this program, to provide students with the knowledge, skills, and means that help them build their future in a better way. We all are aware that there is a cut-throat competition in all aspects of life, especially in the field of employment and education. Hence, one key objective of this program is to help these beneficiaries improve their abilities and develop their skills so as to be active in their societies in particular and in the world in general as leaders and makers of change, success and progress.
The life is full of challenges, and whoever faces none of them is actually not part of life. Challenges provide serious ones with a great incentive to excel and success in life. Let me quote the greatest Arab poet Abu al-Tayyib al-Mutanabi when saying: 
You can only go as far as you push, 
generosity is measured against the giver,
while the eyes of the little find everything hard, 
nothing impossible in the eyes of the great. 
Among today's major challenges to us has to do with the ability to be part of this world, an active part capable of achieving the impossible and making a difference. All of you, each according to his/her major and position, are required to have strength, resilience and will, as well as to have a moral position on the absurdity surrounding us.
In more accurate words, whatever own convictions, everyone must reject injustice, terrorism, corruption, and racism, and never accept any justification for these scourges, foremost of which is the justification for tyranny, extremism, and racism. Hence, I urge you all to be positive and honest with yourselves and your communities. You are the ones who will change the reality we will eventually live in. If you adhere to the values of truth and to the values of integrity and solidarity, and arm yourself with knowledge, you will certainly achieve what you aspire to, no matter the difficulties and obstacles.
So let's work together for the success of this program by working sincerely and hardly, joining the accompanying activities and seizing various opportunities provided by the program, foremost of which is acquiring the skills of engaging in the job market with confidence and competence.
While facing these challenges afflicting the world today, we must keep in mind that everyone of us is able to overcome circumstances and difficulties and change reality. Personally, what I care about is it's very crucial for you to be beneficial to yourselves, your country, and your just human causes.
In my lectures delivered in most of global conferences and events, I always emphasize the importance for you as young people, especially those who are with us in this program, to open up to the world, build bridges with those from other cultures, introduce yourselves to them and tell the world about you and your long-established and diverse history and culture. You are not without an identity or a cause. It is essential for you to succeed in your life without losing your values. Such equation is vital, and I am sure that most of you agree with me on it.
Without further ado, I am proud of you and of being part of your success story. Let us work together to create a better tomorrow and a better decent life. Real successes are the ones co-made by a large number of participants. This is the point where we started, and we shall not stop at it. 
May good luck to all of us! Thank you, and I wish you all the best.
My congratulations to the program stuff and to those admitted to the program. 
God willing, as I told you, there will be enough room for others in the near future. Thank you, and may God's peace, mercy, and blessings be upon you.