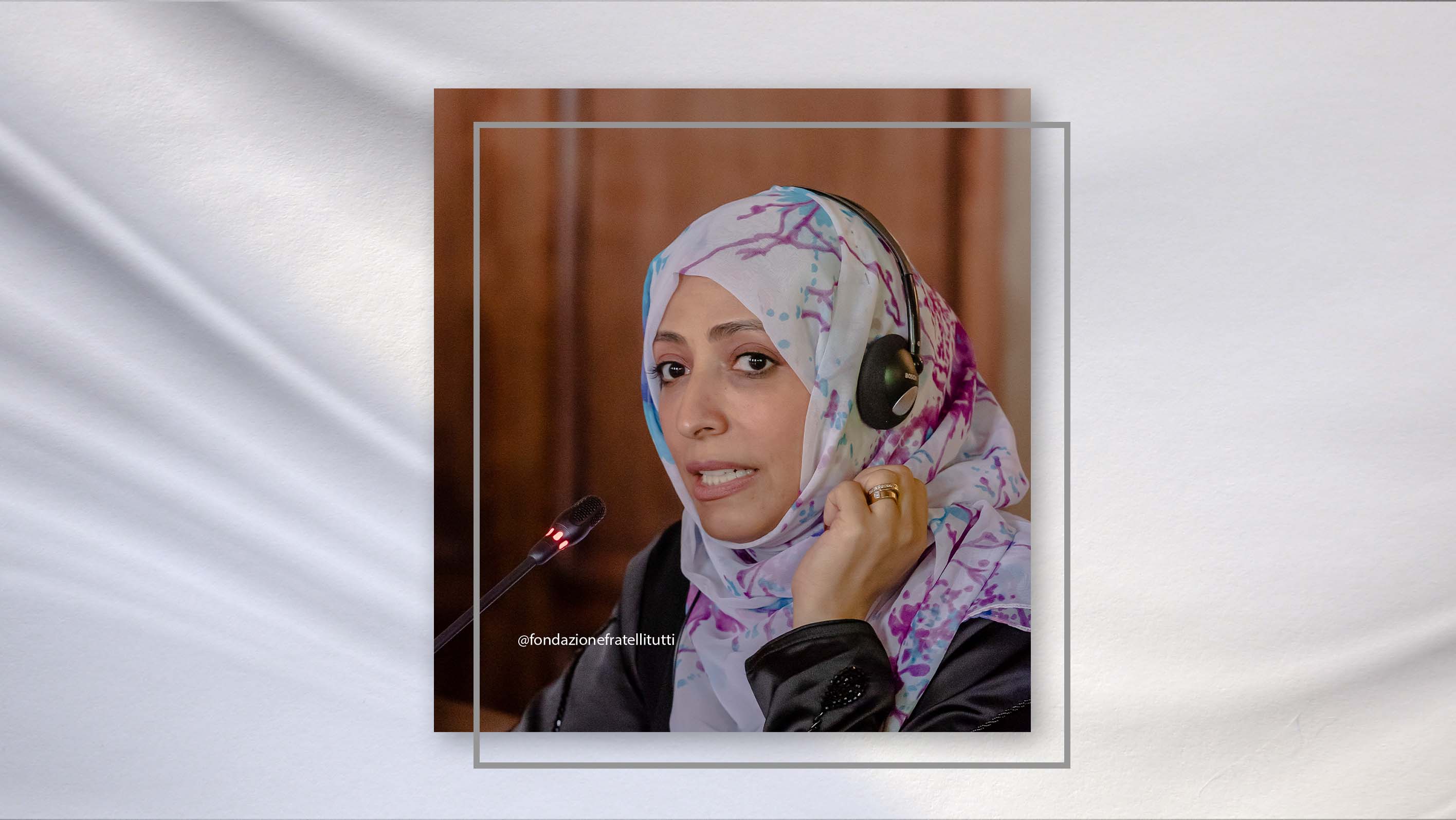 Tawakkol Karman speech at Vatican Fraternity event
Ladies and gentlemen, distinguished guests, and fellow participants,
It is with great pleasure and honor that I stand before you today on this auspicious occasion of the International Day of Fraternity. As we gather here, we embrace the spirit of unity and brotherhood that transcends all boundaries and reminds us of our shared humanity.
Fraternity, in its essence, is the embodiment of compassion, empathy, and solidarity. It is a fundamental principle that calls upon us to recognize and celebrate the inherent dignity and worth of every individual, regardless of their race, religion, nationality, or background. It urges us to foster a world where understanding, respect, and cooperation prevail.
In a world that is becoming increasingly interconnected, it is essential that we embrace fraternity as a guiding principle. We are witnesses to the profound impact our actions can have on the lives of others, whether they are near or far. The challenges we face as a global community – be it poverty, inequality, climate change, or conflict – require us to come together, united in our commitment to building a better future for all.
Fraternity reminds us that no one is an island unto themselves. Our destinies are intertwined, and our collective well-being is dependent on our ability to work together. When we recognize the common threads that bind us, we break down the barriers of fear, prejudice, and division. We find strength in our diversity and harness the power of collaboration to address the pressing issues that affect us all.
On this day, let us reaffirm our commitment to fraternity by reaching out to those in need, by extending a helping hand to the marginalized and the oppressed. Let us strive to create inclusive societies where everyone has equal opportunities to thrive and succeed. It is in the spirit of fraternity that we can build bridges of understanding and promote dialogue to resolve conflicts peacefully.
Moreover, fraternity calls upon us to be guardians of our planet, recognizing the interconnectedness between human beings and the environment. Let us act responsibly and with care, ensuring the sustainability of our resources for future generations. By fostering a sense of ecological fraternity, we can safeguard the beauty and abundance of our world.
Furthermore, in our pursuit of fraternity, it is vital that we stand in solidarity with those who struggle for freedom, justice, and the rule of law. Fraternity goes beyond mere words; it requires us to actively support and uplift those who are fighting for their rights and dignity.
Fraternity calls upon us to support the defenders of human rights, activists, and advocates who tirelessly work towards justice and equality. By amplifying their voices, advocating for their causes, and demanding accountability, we contribute to a world where fraternity thrives.
Together, let us create a future where no one is left behind, where every person's rights and dignity are upheld, and where the principles of freedom, justice, and the rule of law form the foundation of our shared fraternity.
We must work tirelessly to promote inclusivity, diversity, and understanding, fostering an environment where everyone feels valued, respected, and embraced. By actively challenging and addressing biases and prejudices within ourselves and our communities, we can contribute to a more harmonious and equitable society.
Fraternity also compels us to reject any alliance or collaboration with dictatorial regimes under the pretext of unity. True fraternity cannot be built upon the suppression of basic human rights, the stifling of dissent, or the denial of freedom. It is our duty to support democratic values, defend the principles of justice and liberty, and hold accountable those who undermine the fundamental rights of their citizens.
Let us remember that fraternity does not mean turning a blind eye to injustice or compromising our values. It means actively working towards a world where all individuals are treated with dignity and fairness, regardless of their background or beliefs.
In conclusion, the International Day of Fraternity serves as a powerful reminder that we are all members of one global family. It reminds us of our shared responsibility to create a world where peace, justice, and compassion prevail. Let us embrace the values of fraternity in our daily lives, cultivating relationships based on understanding and acceptance.
Together, we can overcome the challenges that lie ahead and build a brighter future for all. Let fraternity be the beacon that guides our actions and inspires us to create a world where harmony and goodwill reign supreme.
Thank you, and may the spirit of fraternity guide us on this journey of unity and progress.