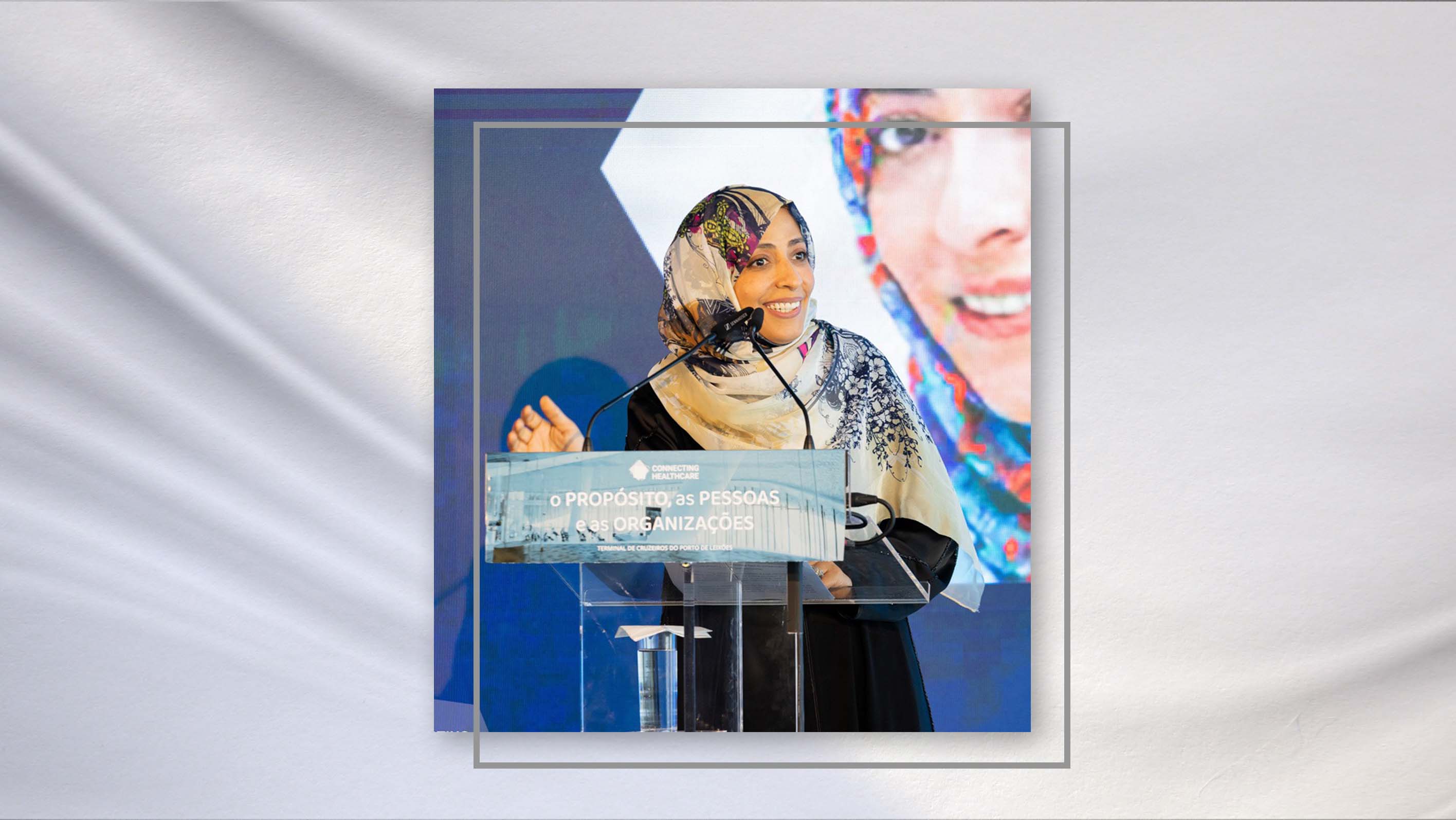 Mrs. Karman's Speech at Connecting Healthcare "Purpose, People and Organizations" - Portugal
It is with great honor that I stand before you today in This conference organized by the Portuguese Ministry of Health , and to talk to you about  the crucial topics of global peace and human rights.
In an era marked by rapid advancements and interconnectedness, it is essential that we embrace these fundamental principles to build a better world for ourselves and future generations.
But first of all I know most of the audience today are doctors and people who work in the health care sector, so I want to take a moment to express my deep gratitude and admiration for the invaluable work you do every day. Your dedication, expertise, and selflessness have an immeasurable impact on the lives of individuals, families, and communities. 
In times of crisis and war, you serve as beacons of hope and healing, often working under extreme conditions and putting yourselves at risk to save lives. Your unwavering commitment to providing medical care and alleviating suffering is truly remarkable. Your courage and resilience inspire us all.
Moreover, in the face of pandemics like COVID-19, you have been at the forefront of the battle, tirelessly working to contain the spread of the virus, treat the infected, and develop life-saving vaccines. Your efforts have been pivotal in safeguarding public health and minimizing the impact of this global health crisis.
Global peace, the absence of conflict and violence on a global scale, remains an elusive ideal. However, it is a goal worth pursuing with unwavering determination. The world has witnessed the devastating consequences of war and strife, tearing apart communities, disrupting economies, and causing immeasurable suffering. We must recognize that peace is not merely the absence of war, but a state of harmony where justice, equality, and respect flourish.
To achieve global peace, we must prioritize freedom, democracy, dialogue and diplomacy over aggression and hostility. We should foster a culture of understanding and empathy, recognizing that every individual, regardless of their nationality, ethnicity, or beliefs, deserves to live a life free from fear and oppression.
Central to the pursuit of global peace is the protection and promotion of human rights. Human rights are the foundation upon which just societies are built, ensuring that every individual is entitled to dignity, freedom, and equality. We must affirm our commitment to upholding these rights, both in theory and practice, regardless of cultural, social, or political differences.
Respecting human rights means recognizing the inherent worth and value of every human being. It means safeguarding the freedom of expression, belief, and assembly, allowing individuals to voice their opinions and participate in the decisions that affect their lives. It means ensuring access to education, healthcare, and economic opportunities, empowering people to fulfill their potential and contribute to society. It means protecting the rights of women, children, and marginalized communities, combating discrimination and injustice wherever it exists.
To promote global peace and human rights, we must work together as a global community. Governments, international organizations, civil society, and individuals all have a vital role to play. We must transcend borders and collaborate across boundaries, understanding that our destinies are intertwined. Our collective efforts should focus on education and awareness, fostering a culture of peace and human rights from an early age. We must invest in sustainable development, eradicating poverty and addressing the root causes of conflict. We must hold governments accountable for their actions, advocating for transparency, good governance, and the rule of law.
As we address the pursuit of global peace and human rights, we cannot overlook the challenges posed by current crises and conflicts around the world, including the ongoing Ukrainian war, Russia's aggression, tensions between China and Taiwan, and the prevalence of authoritarian regimes in various parts of the globe specially in Arab region, while there is a great revolutions against dictators know as Arab spring  calling for freedom, democracy and role of law , It is imperative that we confront these issues head-on and reiterate our commitment to upholding the principles that underpin a just and peaceful world.
The aggression displayed by Russia in Ukraine and before that in Syria calls into question the principles of international law and the importance of respecting national boundaries. In a world that strives for peace and stability, it is crucial that we hold leaders accountable for their actions and safeguard the principles of territorial integrity and self-determination. The international community must unite in its support for those affected by such aggression, providing humanitarian aid, and working towards a diplomatic resolution that respects the rights of all parties involved.
Authoritarian regimes present a significant challenge to the principles of human rights and global peace. The suppression of dissent, curtailment of freedoms, and disregard for the rule of law undermine the foundations of just societies. We must stand in solidarity with those who yearn for freedom and democracy, advocating for their rights and holding oppressive regimes accountable for their actions. The international community should use diplomatic and economic leverage to promote democratic values, encourage respect for human rights, and support civil society organizations that strive for positive change.
In moving forward, we must learn from the mistakes of the past and chart a more principled and ethical approach. Western governments should reconsider their alliances and prioritize the promotion of human rights, democracy, and good governance, even if it means challenging their geopolitical interests. This shift in approach will contribute to long-term stability, regional cooperation, and the fulfillment of the aspirations of the people in the region.
Furthermore, it is vital for the international community to support post-conflict reconstruction efforts in affected countries, ensuring that the necessary resources and assistance are provided for sustainable development and the restoration of institutions. This support should be driven by the principles of inclusivity, accountability, and respect for human rights, working in partnership with local communities and civil society organizations.
Thank you